TThe Model 107 in-line transient load opacity meter is used in diesel engine Test Cell applications by most diesel engine manufacturers worldwide. The control panel is a rack mount chassis with front panel controls. The sensor unit is installed in-line with the optical sensors protected from excessive heat and maintained in alignment by a rugged thermally insulated mount.
Assures measurement accuracy because smoke is confined to fixed volume. Optical path length is also fixed, further insuring accuracy and repeatability.
Model 107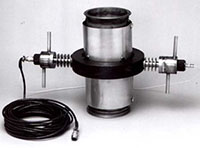 In-line, Full flow
Not affected by exhaust
temperature or vibration
Rapid Transient Response
Rack-mounted, all solid-state
control unit
+ or - 0.5% Accuracy
Improved Linearity
Applicable Specifications
ISO/DIS 11614
Euro III, IV, V
EPA 40 CFR 86.884-9
Meets requirements for
diesel engine
Federal test cycle
Permanent solid-state light source
Measures opacity from 0-100% &
Smoke Density from 0 - 19.99/M
Accomodates 2"-18"
diameter stacks.
Greater Precision
Less Drift